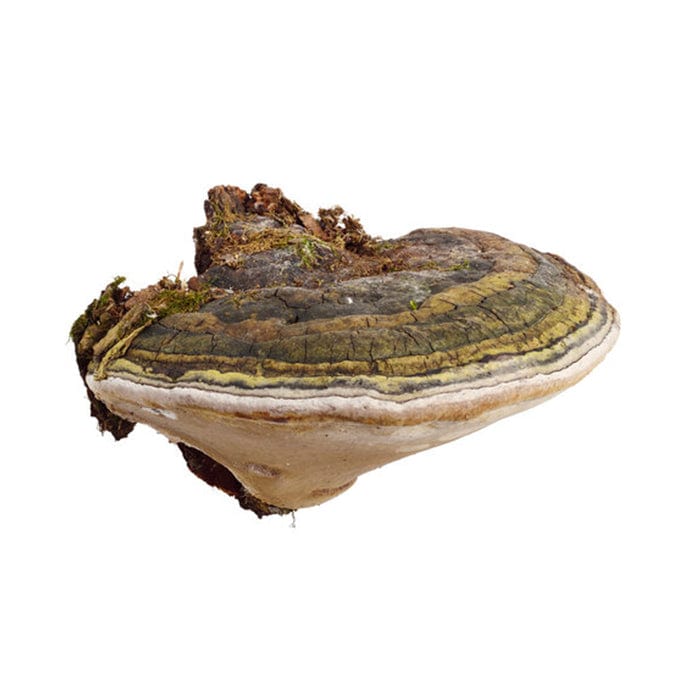 Description
Latin Name - Phellinus igniarius

Season - Perennial which is available and harvested all year round

Potential Health Benefits - Protects liver from alcohol damage, anti-diabetes, anti-inflammatory

Harvest Location - Northern Ontario Forest Districts in the Great Lake St. Lawrence forest region

Knowledge
Today, TruNorth is able to harvest and produce products in either raw form or extract the fruiting bodies and provide mixable, powder-based or liquid-based wild-harvest organic products, with no fillers or carriers.
Read more About our products
Sustainable Harvesting
We want to go back to the same sources to harvest, year after year. To do this, we need to ensure we are tending to the forest growth as much as its harvest.
Made in Canada
TruNorth's Chaga is sourced from the beautiful forest regions of Northern Ontario, handpicked, dried and processed sustainably.
Pure & Potent
We use a third-party lab to test our products, testing for active compounds to ensure the maximum purity and potency for our products.
Organically Certified
TruNorth Naturals being Organically Certified is not a requirement, but we believe it holds us to yet another level of accountability, quality and purity.
Vegan Friendly
TruNorth is more than a brand, it's a lifestyle. Our products are vegan friendly and processed in a vegan-safe facility.
FAQ
What is Chaga?
Chaga is a fungus that grows in abundance in the forests where we harvest. Though sometimes called a mushroom, the fruiting body of this fungus is called a "conk", and has the appearance of a large, charcoal-like mass.
What Does Chaga Taste Like?
Raw chaga has an earthy, though not particularly strong taste, with a virtually unnoticeable flavor in our coffee and tea blends.
Is Chaga Safe to Store?
When storing dry, raw Chaga products, any airtight container will do. If you have already simmered your Chaga once to make tea and intend to re-use it, it should be stored in your freezer in the meantime.
Why Chaga?
Betulinic acid is responsible for much of Chaga's antiviral and anti-inflammatory properties. This compound is found in the bark of birch trees. Unlike mycelium cultivated Chaga, our wild-harvested Chaga absorbs betulinic acid from the birch trunks it grows on.
About TruNorth
Purity is paramount.
Our stewardship of nature's inherent purity is woven into how we source, harvest, process, store, ship and share potent plant medicines. TruNorth uses indigenous age-old methods and novel, scientific practices to capture as much of the forests' purity for human consumption.
Care is the key ingredient.
TruNorth deeply cares about every little inch of their interaction between plants and people. From how our mushrooms are lifted off the trees, to how Reiki is performed on the Chaga before they're packages for customers, to how we manage relationships with family-team, customers and competitors, complete care is woven into our recipe for operating TruNorth
Plants have everything we need.
Long before we had big pharma, biotech, health and wellness trends, we had powerful plants. Humans have existed for thousands of years with the support and healing properties from plants. TruNorth believes plants have the power to support and sustain human health. Adaptogenic mushrooms are more than a health and wellness trend, when treated properly they are a medicine to enable human health.